Written by Ron Morales on August 9th, 2014
Rochester, NY
As a fan of the local ROC music scene, I am becoming more fond of the Lovin' Cup . It's a fantastic club / restaurant brimming with visual art and live music. I work 3rd shift and weekends starting 11pm, so I shoot most of my bands at daytime festivals, or clubs close to downtown Rochester, NY where I work.

I get lots of invites to shoot bands at the Lovin' Cup, every now and then the planets line up and I'll shoot a show and go to work a little bit late. Such was the case Saturday, July 19th, 2014. Having been invited to shoot the band Northeast Funk (NEF), and being quite familiar with band members Drew Gansz and Doug Egling from seeing them at the open mic Super Sunday Soul Jam, the time seemed ripe to add another band to the list of bands I have shot after meeting them at some other happy event.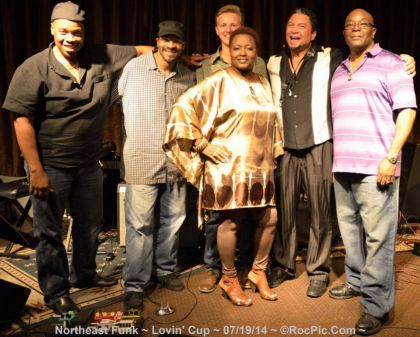 Photo: Northeast Funk at Lovin' Cup - Sheila Brooks, Lawrence Alan, Charles Davis, Drew Gansz, Doug Egling, Glenn Beard
I had seen all of the band members - Lady Shayla Brooks, Lawrence Alan, Charles Davis, Drew Gansz, Doug Egling, Glenn Beard at the Super Sunday Soul Jam, but Drew and Doug are at the Jam almost every week, so I was most familiar with them and their playing styles.

I think it's worth mentioning that guitar player Drew Gansz is only 16 years old, and often shares a stage with Joe Beard, and yes, Glenn Beard is related to Joe. Also, sax is my favorite instrument, so I'm pretty motivated to shoot a band that has a sax-man such as Doug Egling. [Read More...]

The sample video below features Northeast Funk performing "Square Biz" Follow this link Northeast Funk at Lovin' Cup for all 13 videos and 62 photos